Wolverine (2000) Joe Jusko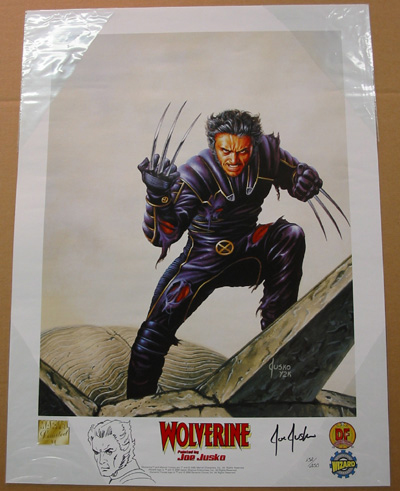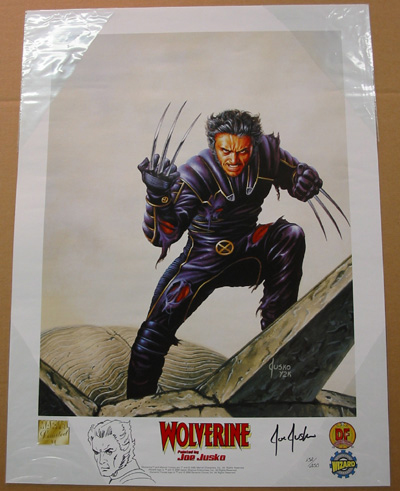 Wolverine (2000) Joe Jusko
Joe Jusko's awesome original cover painting used for both Wizard #106 (Wizard Entertainment, 2000) and a limited edition lithograph (Dynamic Forces, 2000)
Acrylic on board, painted in rich, vibrant colors
Produced By: Wizard Entertainment & Dynamic Forces
Size: 11.5" x 16" inches (unframed)
Release Date: 2000
Worldwide Shipping (FedEx): $30 USD
Item Code: CA-00046
COMMENTS
Joe Jusko's original painting published as both the cover for Wizard #106 (Wizard Entertainment, 2000) as well as a limited edition lithograph (Dynamic Forces, 2000). From the top of the Statue of Liberty, Hugh Jackman's Wolverine glares menacingly, pausing briefly during an obviously heated battle.
Exquisitely rendered by the awesomely-talented Joe Jusko, this is a superb painting. Instantly recognizable as the star of the blockbuster X-Men movie, there is an almost palpable sense of menace and tension in this piece.
It is undeniably the work of a modern master. with an approximate image area of 11.5" x 16", this piece is in perfect condition and is signed by the artist in the lower right corner.

Please note that the lithograph and magazine images are for reference only, and do not accompany the artwork.

JOE JUSKO
Joe Jusko is one of the most famous illustrators in the world of fantasy, science fiction and comics, for more than 30 years. He was born in New York and has worked for both Marvel and DC Comics. Jusko has presented countless superheroes with amazing realism.
BUY NOW
To purchase this item using your credit card (Visa, Mastercard or American Express), click the "ADD TO CART" button below.