The Flintstones (1968) Gene Hazelton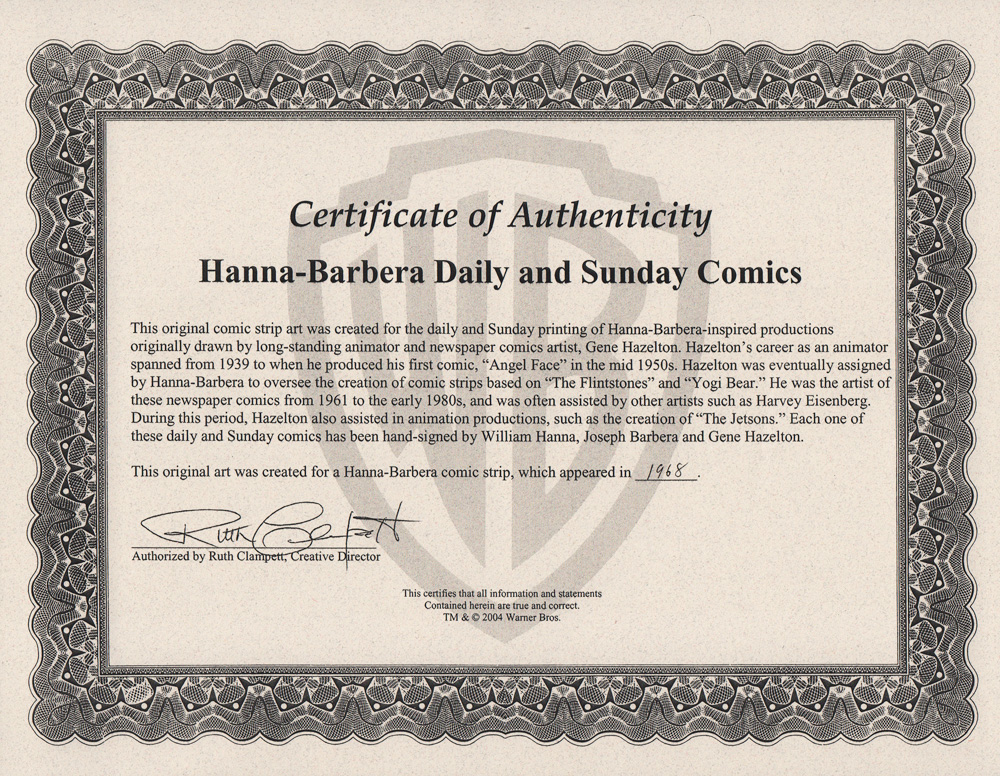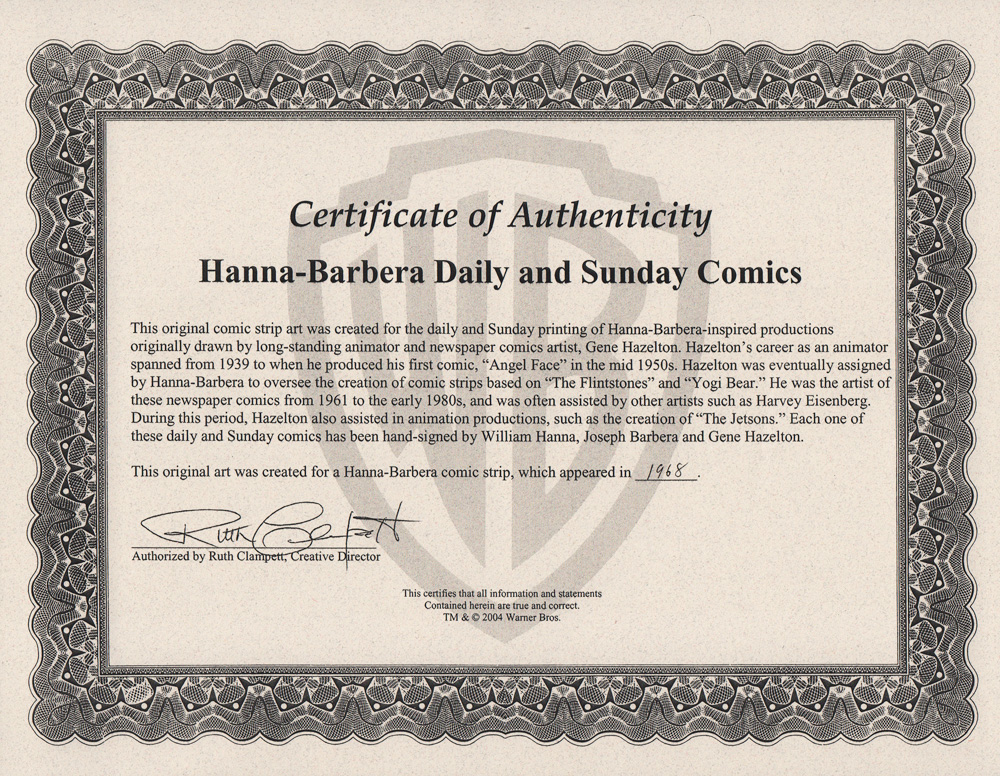 The Flintstones (1968) Gene Hazelton
Gene Hazelton Original Comic Strip Daily Daily,
Featuring Fred, Wilma and Pebbles.
This strip is signed by creators, Bill Hanna, Joe Barbera and written and illustrated by Gene Hazelton
Size: 20.5" x 7" inches (unframed)
Release Date: 17th July, 1968
Worldwide Shipping (FedEx): $30 USD
Item Code: CA-00044
COMMENTS
Here is the original art for the classic "The Flintstones" Daily Comic Strip, dated July 17th, 1968. This vintage daily is written and drawn by Gene Hazelton.
The artwork is in excellent condition, and is ALL original, with no corrections or word balloon paste-ups. The artwork is signed by creators Bill Hanna and Joe Barbera, as well as Gene Hazelton, and comes with a studio certificate of authenticity. This amusing gag is beautifully rendered with crisp artwork by Gene Hazelton, perfectly capturing the style of the television series. A nice big piece, perfect for display, the image area ea of the art measures 20.5" x 7" inches on standard art board.
Gene Hazelton (3/6/1919 - 6/4/2005, USA)
Gene Hazelton was an animator and artist of newspaper comics.
He was eventually assigned by Hanna-Barbera to oversee the creation of the comic strips based on 'The Flintstones' and 'Yogi Bear'. He was the head artist of the newspaper comics from 1961 to the early 1980s, often assisted by artists like Roger Armstong, Dale Hale, Harvey Eisenberg and Jesse Marsh.
During this period, Hazelton also cooperated on Hanna-Barbera's animation productions, such as the creation of 'The Jetsons'. He created Pebbles and later Bamm Bamm for the Flintstones TV show. Bamm Bamm was modeled after his real life son, Wes.
BUY NOW
To purchase this item using your credit card (Visa, Mastercard or American Express), click the "ADD TO CART" button below.